'Killers of the Flower Moon': Leonardo DiCaprio and Martin Scorsese's Apple TV+ Movie Gets Theatrical Release
Apple TV+ plans to give Martin Scorsese's new movie Killers of the Flower Moon a wide theatrical release. The historical drama, which stars Leonardo DiCaprio and centers on the murders of members of the Osage Nation, will hit theaters on Oct. 6 in limited release. The wider release will begin on Oct. 20 before it heads to Apple TV+. Paramount Pictures is distributing the film theatrically in partnership with Apple.
Scorsese fans hoping to see it even sooner might have to check out the 2023 festival circuit. Sources told Variety Apple still plans to debut Killers of the Flower Moon at the Cannes Film Festival, which kicks off on May 16. Cannes chief Thierry Frémaux told Variety they are in "discussions" and hope Scorsese attends the festival. It could be his first film at the festival since 1986's After Hours.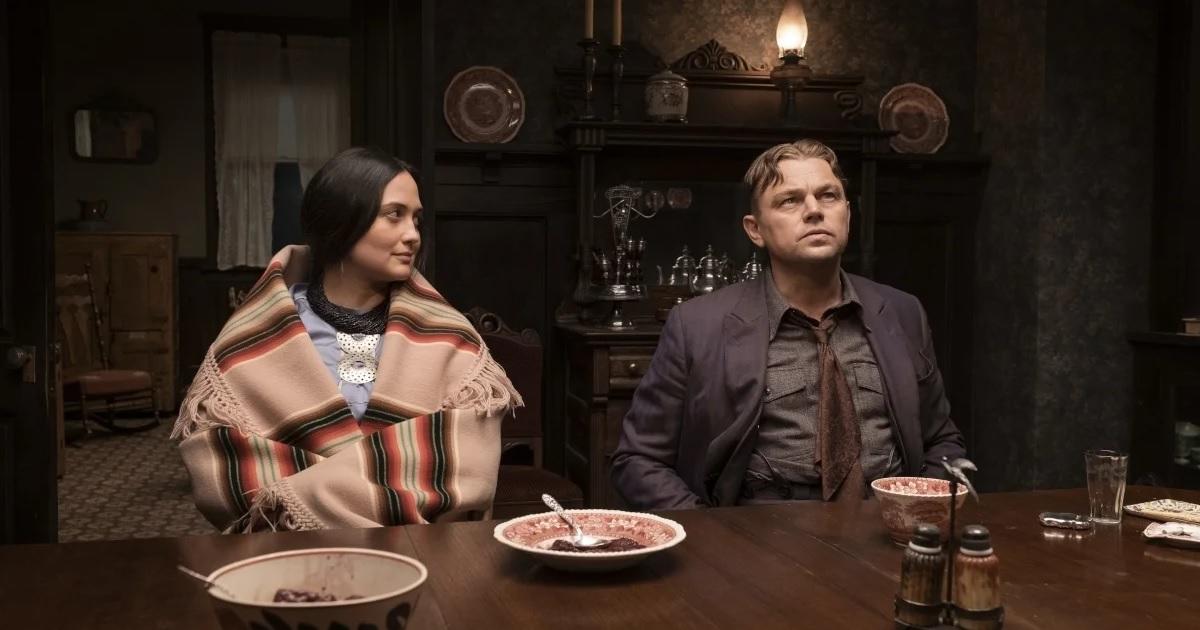 Apple previously followed a system similar to Netflix, with its original films debuting right on the streaming service without wide theatrical releases. However, sources told Bloomberg earlier this month that Apple plans to spend $1 billion a year to send its movies to theaters. Aside from Killers, Apple Original Films' upcoming projects include Ridley Scott's Napoleon and Matthew Vaughn's Argyle. Apple's partnership with Paramount only covers Killers, and Paramount will collect a 10% distribution fee.
Killers of the Flower Moon was written by Scorsese and Eric Roth, and is based on the non-fiction book Killers of the Flower Moon: The Osage Murders and the Birth of the FBI by David Grann. It focuses on the Oklahoma murders of members of the Osage Nation in the 1920s after oil was discovered on their land.
The all-star cast includes DiCaprio, Robert De Niro, Lily Gladstone, Tantoo Cardinal, Brendan Fraser, John Lithgow, and Jason Isbell. Apple Studios produced the movie with Imperative Entertainment, Sikelia Productions, and Appian Way. Scorsese and DiCaprio produced the film with Dan Friedkin, Emma Tillinger Koskoff, and Bradley Thomas. Rodrigo Prieto, who worked with Scorsese on The Wolf of Wall Street, Silence, and The Irishman, was the cinematographer. Thelma Schoonmaker is editing the picture, while Robbie Robertson wrote the score.
Killers is Scorsese's seventh movie with DiCaprio and 11th with De Niro. Scorsese began working with DiCaprio on Gangs of New York in 2002. They also made The Aviator, The Departed, Shutter Island, and Wolf together. DiNiro regularly starred in Scorsese's movies through 1995's Casino. They reunited in 2019 for The Irishman. However, Killers is the first time Scorsese, DiCaprio, and De Niro have worked together on a single project since they made The Audition, a 2015 short film for the Studio City Macau Resort and Casino.
0
comments