'Law & Order: SVU' Benson-Stabler Crossover Included Shocking Death
Law & Order: Special Victims Unit will start a new story arc with the Feb. 2 episode, but it will take much longer than one week to get over everything that happened in "Blood Out." The Jan. 26 episode wrapped up the BX9 gang storyline that started in the Jan. 5 midseason premiere and culminated with the almost-kiss between Benson and Stabler. The episode also featured the shocking death of an important character.
The multi-episode storyline began with Capt. Olivia Benson (Mariska Hargitay) being targeted by BX9. She was attacked while walking home with her son, Noah (Ryan Buggle). Det. Mike Duarte (Maurice Compte), who leads the Bronx Gang Unit and was introduced in the Sept. 29 episode "The One You Feed," picked up the case. Federal authorities were also breathing down the NYPD's necks because of a pile of unsolved rapes in the Bronx, so Benson's Manhattan SVU team came in to help.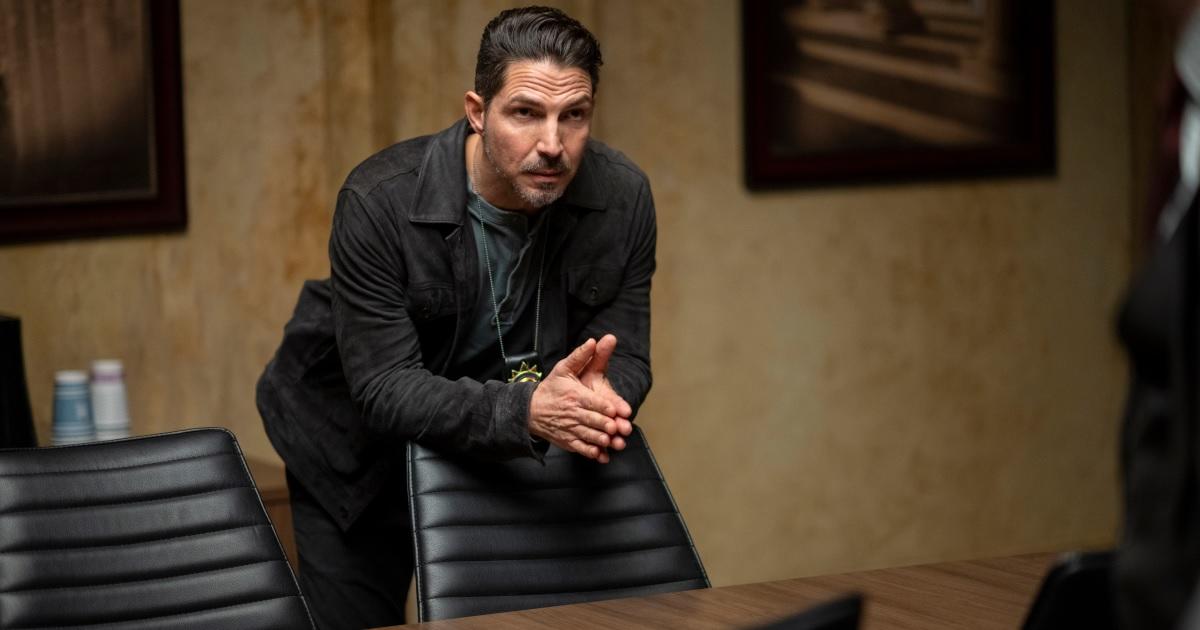 Benson and Duarte's relationship was rocky, especially as they closed in on BX9's leader, Oscar Papa (Goya Robles). Duarte felt Benson was trying to put Papa behind bars for the rapes he ordered, which could have imperiled Duarte's years-long investigation into BX9. However, Benson, Duarte, and the SVU team found enough evidence to put Papa on trial for the rapes and Benson's attempted murder. Duarte testified during the trial, and Papa ordered Duarte's murder while behind bars.
Later, Benson and Duarte went for drinks to smooth out the differences between them. After they went their separate ways, Duarte stopped in a bodega, where he notices a bunch of hooded characters following him inside. They are all carrying machetes, and Duarte is no match for them. Duarte lived long enough to be transported to a hospital, where he died during surgery.
After the tragedy, Benson reluctantly agreed to let Papa take a deal, but only if he promised that Noah would be safe. Papa agreed to serve 25 years for the murder of Duarte and 25 years for the attempted murder of Benson and Noah. Papa did not admit to ordering rapes, so no one really got what they wanted.
"Blood Out" ended with Det. Elliot Stabler (Christopher Meloni) stopped by after he kept an eye on Noah while all this was going on. Stabler reminded Benson that he really does care for her, so he leaned in for a kiss. Benson was not ready to take their relationship to a romantic level, out of fear of what could happen if it does not work out.
While we've seen the last of Duarte, the BX9 storyline did introduce one detective who will be hanging around. Det. Terry Bruno, played by Kevin Kane, impressed Fin (Ice-T) as they investigated rapes in the Bronx together. Fin will give Bruno a tour of the Manhattan SVU office in the Feb. 2 episode, "Intersection." New episodes of SVU air Thursdays at 9 p.m. ET, between Law & Order and Law & Order: Organized Crime. All three shows are streaming on Peacock.
0
comments