'Chicago' 20th Anniversary Blu-Ray Is a Missed Opportunity (Review)
Rob Marshall's Chicago became the first musical to win the Best Picture Oscar in over three decades in 2003. While it inspired a few more big-budget musicals from Hollywood in the past 20 years, no other musical has won the top prize since. To celebrate Chicago's 20th anniversary, Paramount Home Video released a new steel book Blu-ray edition that feels like a missed opportunity to bring the movie to 4KUltraHD.
Chicago is based on the 1975 stage musical by Bob Fosse and Frank Ebb that brought the Jazz Age becak to Broadway. Renee Zellweger stars as Roxie Hart, while Catherine Zeta-Jones lights up the screen as Velma Kelly. The two murderers fight for fame, which they hope will keep them from getting the death penalty. Richard Gere gives one of the greatest performances of his career as the smooth-talking lawyer Billy Flynn, who fights to get Roxie a not-guilty verdict, at least until she's no longer in the headlines.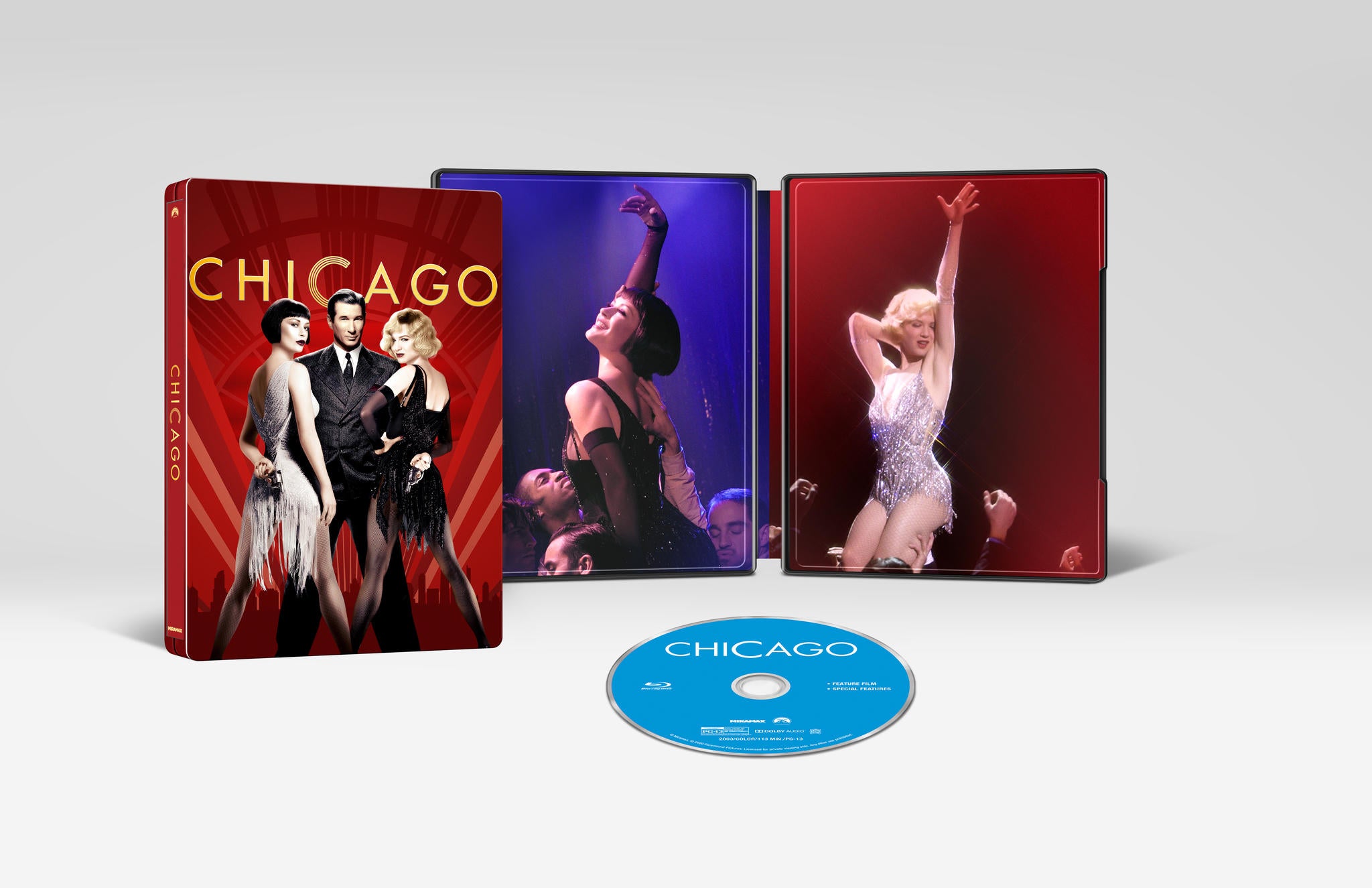 This marked Marshall's film directing debut after extensive work on Broadway, and with a tight script by Bill Condon, he showed early promise. He might have had the talent to make a musical with the energy of the classics of the 1940s and 1950s, with a mix of the stylistic flourish of Fosse. But there are still some decisions made out of fear that a modern audience wouldn't take musical conventions seriously. The decision to make all the musical numbers take place in the mind of Roxie and the characters are frustrating. The dizzying, Oscar-winning editing from Martin Walsh robs the audience of a chance to enjoy the Fosse-inspired choreography.
Thankfully, the casting turns out to be perfect, starting with Zeta-Jones' Oscar-winning turn as Velma and Queen Latifah's Oscar-nominated performance as Mama Morton. It still makes zero sense why Gere missed out on an Oscar nod, but John C. Reilly scored a (deserved) mention for Best Supporting Actor. Watching Chicago today reminds us of the generations of great musical talent who never had an opportunity to shine onscreen simply because Hollywood stopped making musicals.
The Blu-ray included in the 20th-anniversary steel book is the exact same as the "Diamond Edition," even starting up with the Lionsgate logo. This was originally released back in February 2014 and includes a comprehensive then-new documentary about the making of the film that runs over two hours. (It's difficult to watch today, seeing just how involved Harvey Weinstein was and hearing the praise showered upon him. He didn't win an Oscar for Chicago since he's not credited as a producer, but he had a say in making it from the beginning.) There are also several extended musical performances, all of with are in standard definition and carried over from previous DVD releases. (The deleted "Class" number can only be found on the past DVD editions and the original 2007 Disney Blu-ray.)
Paramount Home Video now handles the distribution of Miramax titles. The studio first released its own copy of Chicago in 2020, when it simply repackaged Lionsgate's "Diamond Edition" without a DVD. On Feb. 7, Paramount repackaged the "Diamond Edition" in a boringly designed steel book. There is no DVD included, but you do get a digital code. Paramount did not release a brand new 4KUltraHD disc, which is disappointing since this movie would really show off the capabilities of the format. It feels like this steel book release was just for people who still did not have a copy of Chicago.
0
comments